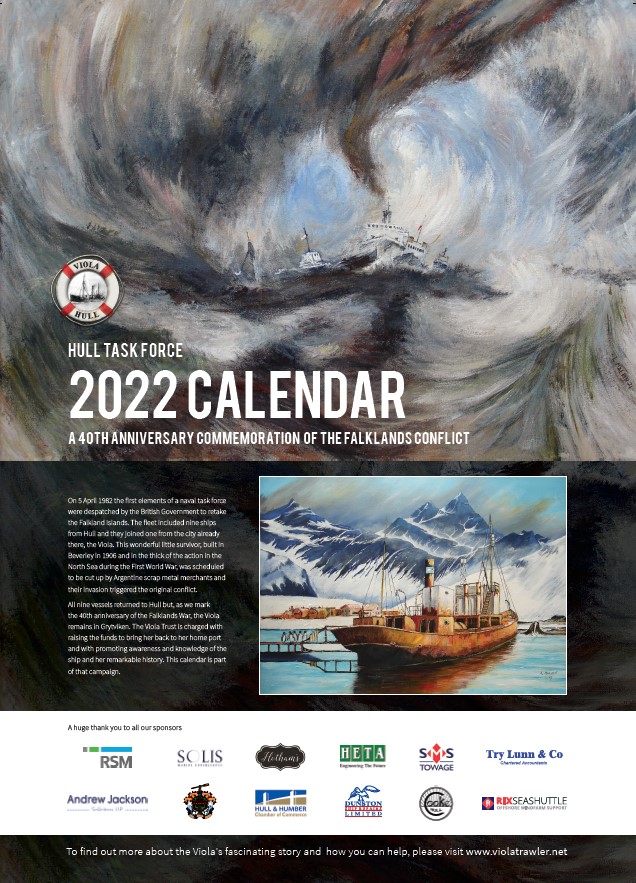 25th November 2021
Businesses across the region have supported the Viola Trust to cover the costs of a new calendar which marks the 40th anniversary of the Falklands War and the part played by nine ships from Hull.
"Hull Task Force" which is available now, features paintings of the nine ships by Larry Malkin, the Holderness artist whose work also inspired the Trust's 2020 calendar.
Larry's work is based on detailed research of the ships and the part they played in the Falklands War, which lasted from 2 April until 14 June 1982. Duties ranged from transporting troops and salvaging wrecks to removing mines and repatriating prisoners of war.
The Hull fleet comprised Norland, Salvageman, Pict, Cordella, Yorkshireman, Irishman, Junella, Northella and Farnella. The Viola was already there, sitting on a beach in Grytviken and targeted by Argentine scrap metal merchants in an incident which contributed to the start of hostilities.
The calendar has been supported by Andrew Jackson Solicitors, B Cooke & Son Ltd, Dunston Ship Repairs Limited, Hull & Humber Chamber of Commerce, Hotham's Spirits, Humberside Engineering Training Association (HETA), J R Rix & Sons Ltd, RSM UK, Solis Marine, SMS Towage, Trinity House Hull and Try Lunn & Co.
Norman Court, Project Manager for the Viola Trust, said: "Our previous calendar for 2020 proved very popular with its collection of stunning paintings by Larry of ships with strong Hull connections, and many people still have their copies.
"We expect the new calendar to become another collector's item and one which will further our aims of raising awareness of the Viola and her remarkable story and supporting our campaign to bring her back to Hull.
"We are most grateful to all the businesses which have funded this project, enabling us to maximise the amount which will go to the charity.
"In common with so many other projects worldwide the project to return the Viola has been hit by delays during the last two years, with rising costs and restrictions on international travel presenting particular challenges.
"But we continue to communicate closely with the Government of South Georgia and South Sandwich Islands, we have received positive updates about the condition of the Viola and we are pressing on with fundraising initiatives including the new calendar and plans for another Viola product from Hotham's Spirits."
Copies of the calendar are available from Hotham's Spirits and Bar 55 at 55 Whitefriargate, B Cooke & Son Ltd at 58-59 Market Place, J E Books in Hepworth's Arcade and the Hull People's Memorial in Whitefriargate. The calendar is priced at £10 with all profits going to the Viola Trust.
Further outlets are being added and the calendar can also be purchased direct from the Viola Trust by sending an email to info@violatrawler.net