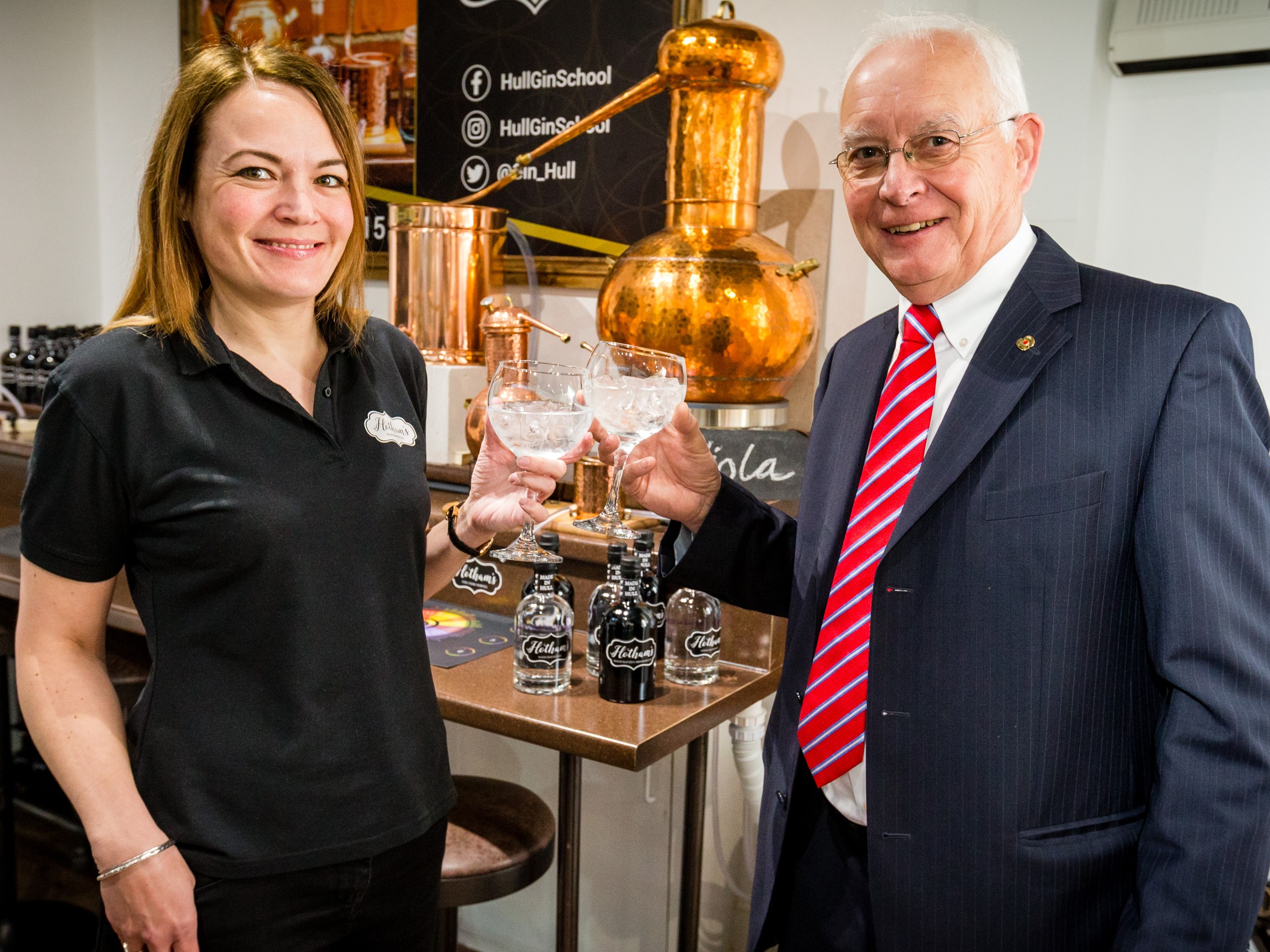 30 November 2018
Trustees behind the Viola campaign are sending a message in a bottle after securing their first sponsorship deal.
The partnership has given the owners of Hotham's Distillery a licence to produce a special brand of their hand-crafted gin which will carry the Viola lifebelt logo on its label.
Emma Kinton and Simon Pownall, who opened their distillery in Hepworth's Arcade, Hull, earlier this year, have started production and are now taking orders for Christmas and beyond.
The deal was struck when Emma and Simon heard about the Viola campaign and decided to name their new still after the ship. They already had smaller stills named after celebrities with a strong Hull connection, including Sir Tom Courtenay, Reece Shearsmith, John Godber and Paul Heaton.
Emma said: "We were learning how to sail last year and we saw some fliers promoting the Viola campaign. We wanted to do something to support that and decided it would be the ideal name for our new still.
"Then we spoke to some of the people from the Viola Trust and between us came up with the idea of producing a gin dedicated to the ship and to the campaign.
"The Viola is an important part of Hull's history and we hope this will help to raise its profile and support the fund-raising campaign. We've already had a lot of orders for corporate gifts for Christmas and we expect to hear from many more people who want to buy something really unique which supports Hull's heritage.
"Once the Christmas rush is out of the way we will be working on plans for an official launch of the Viola gin, maybe with some new ideas for maritime cocktails!"
Paul Escreet, Chairman of SMS Towage and of the Viola Trust, said: "Hotham's Distillery is a fascinating business and they have offered us a wonderful opportunity to promote the Viola campaign.
"We're confident this will be a very successful partnership, promoting the expertise and innovation behind Hotham's Distillery and raising awareness and money for the campaign to bring the Viola back to Hull."
To find out more about Hotham's and to place an order for Viola gin please call in at the distillery in Hepworths Arcade, Hull, or visit https://www.hothams.co.uk/