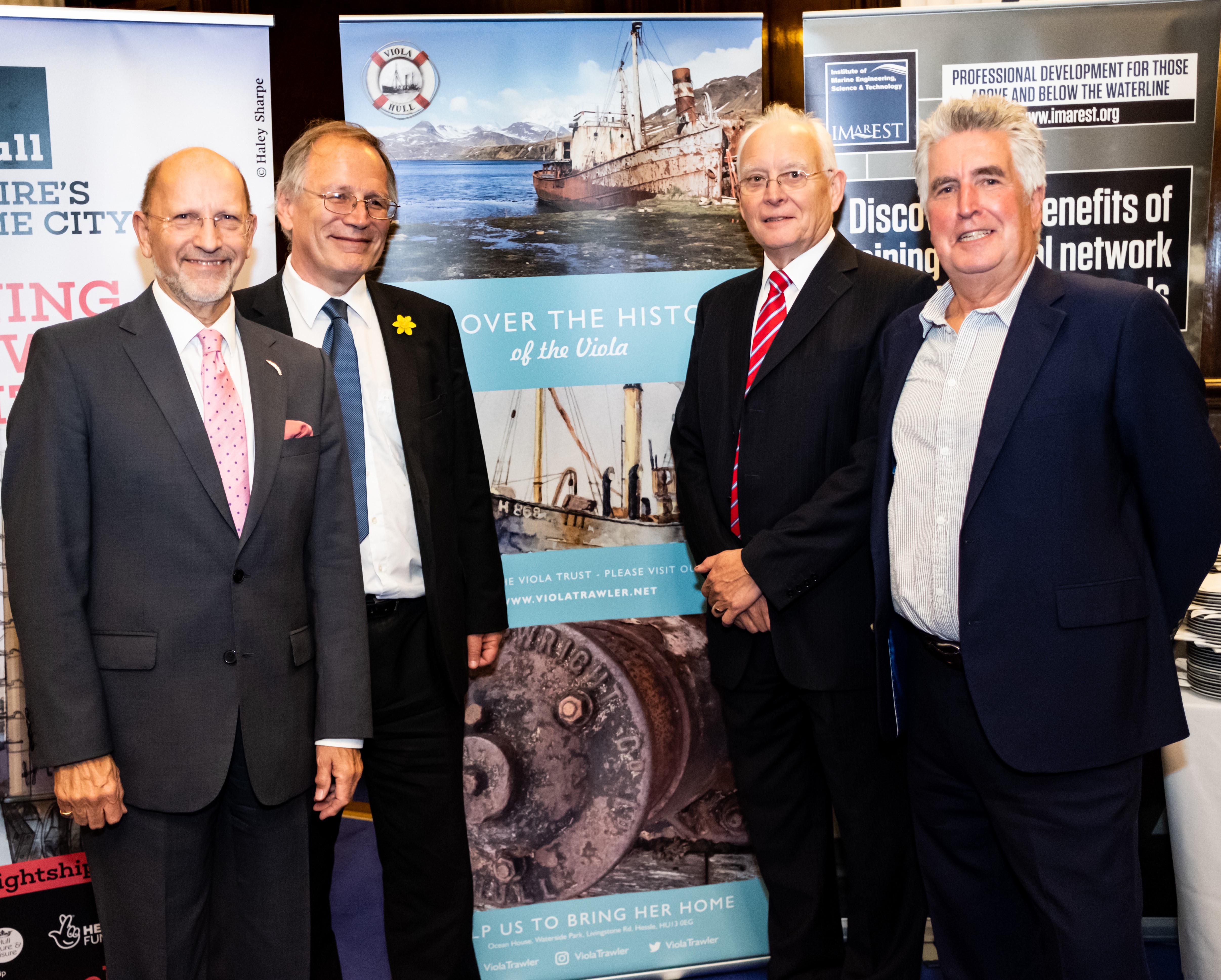 9th September 2019
Regaled with tales of a trawler which caught fish, whales, seals and even enemy U-boats in a career spanning more than 100 years, and tempted by a special gin produced to commemorate the vessel, it's safe to say the relaunch of the Nautical Institute's Humber Branch was a huge success.
Captain Duncan McKelvie, Vice President of the Institute, told the audience at Hull Guildhall how the Humber Branch was founded in 1973 as the fifth in what has become a global network. Then he took his seat to hear from three guest speakers who are all renowned experts in their field.
Simon Green, Director of Cultural Services at Hull Culture and Leisure Ltd, gave an update on Hull City Council's campaign to deliver the Yorkshire's Maritime City project at a cost of £28-million.
Dr Robb Robinson, a maritime historian based at Blaydes Maritime Centre and Honorary Research Fellow of the University of Hull, spoke about the history of the Viola, from construction at the Cook, Welton and Gemmell shipyard in Beverley in 1906 to her current location, wedged into the beach at Grytviken in South Georgia.
Captain John Simpson, Senior Partner of Solis Marine, addressed the practicalities of bringing the Viola back to Hull – surveys which show the quality of the build is still holding up, and heavy-lift ships which are available to carry her the 8,000 miles to the Humber.
Mr Green told the Institute's audience that key elements of the Yorkshire's Maritime City project are a major facelift for Hull's Maritime Museum and the transformation of the North End shipyard, with a former dry dock being renovated to accommodate the Arctic Corsair trawler, which recently moved from the River Hull to the Associated British Ports estate to undergo renovation. A second dry dock is waiting for the Viola.
Mr Green said: "When the Arctic Corsair moved early on a Sunday morning we knew there would be a crowd but we didn't think it would be as big as it was, with 137,000 people following the activity on social media. As we prepare a new berth for the Viola just imagine the interest in moving an older vessel not two miles but 8,000 miles as she comes home to tell her story alongside the Arctic Corsair. It will be amazing!"
No one knows more about the Viola's remarkable past than Dr Robinson, a Viola trustee and co-author with Ian Hart of Viola: The Life and Times of a Hull Steam Trawler.
His presentation, A Ghost Ship of Grytviken, traced the Viola's journey from the yard in Beverley nine miles along the River Hull to the Humber, a trip which back in 1906 took three tides.
Captain Simpson said he would be "stripping out the romance" because it was "all about getting her back". He told of the surveys of Viola carried out in 2015 and 2016 – "she's built like Dreadnought" – and said there is no doubt the salvage of the vessel is "do-able technically".
And then his passion got the better of him: "Viola deserves more than a set of commemorative stamps. The men who went to sea on Viola endured some of the harshest conditions that we could imagine and that was just to bring us fish and chips!
"When the war started they went back to sea and hunted mines and U-boats to keep our country safe. There's no memorial to what they did and Viola is one of the very few opportunities for us to stand where these men stood.
"Within the industry there is a great hunger to be involved in a project like Viola and we have come across great enthusiasm. Viola has attracted worldwide interest. Everybody wants a piece of this because nobody else has got anything like it."
The picture by Robert Bentley shows four of the Viola trustees. From left: Professor David Drewry, Chris Try, Paul Escreet, Dr Robb Robinson.
The find out more about Yorkshire's Maritime City please visit https://maritimehull.co.uk
To find out more about the Viola gin, and to place an order, please visit www.hothams.co.uk