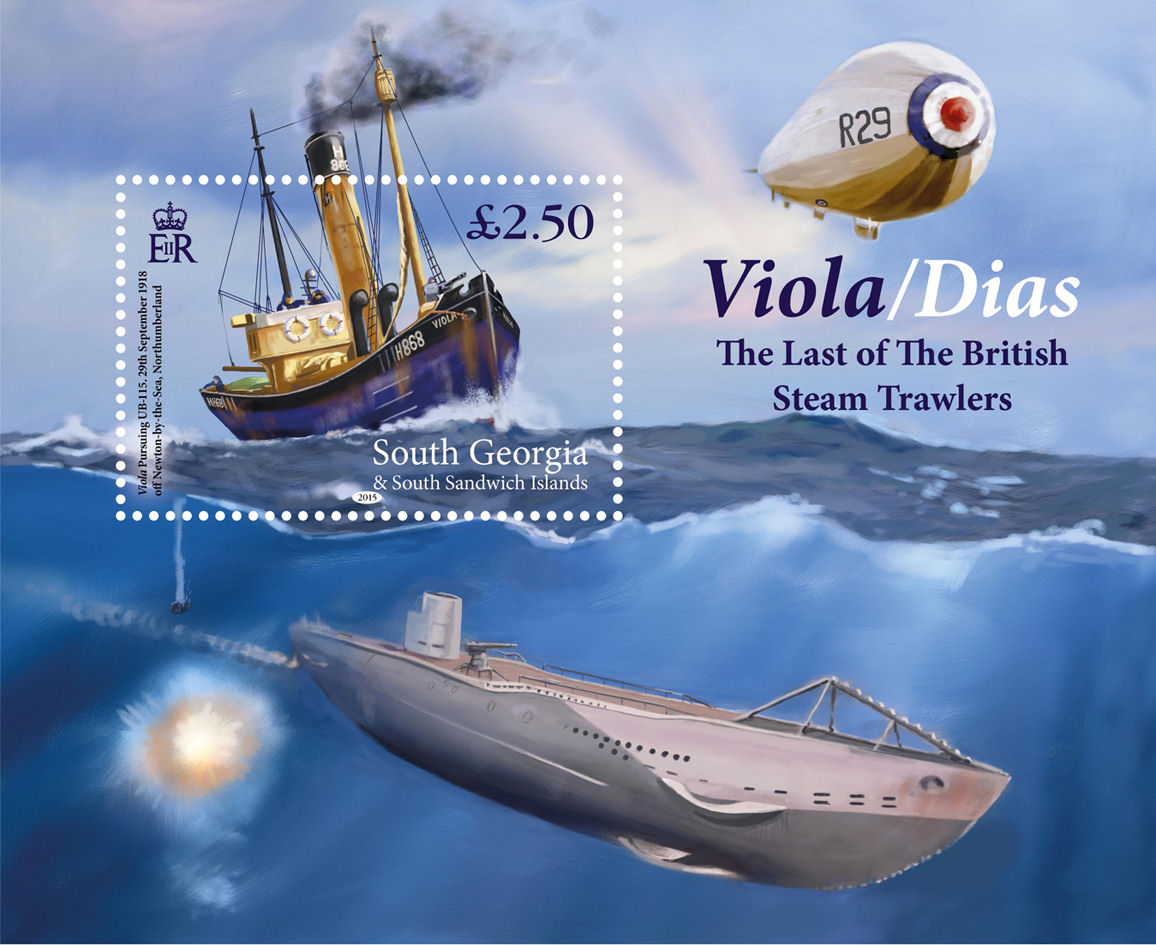 29th September 2018
The 29th September 2018 marks the centenary of the sinking of the German submarine UB-115 off the coast of Northumberland in an attack which involved the Viola and which was an early example of Combined Operations.
The episode was commemorated in June 2015, when the Government of South Georgia produced some stamps to mark the incredible story of the trawler.
The UB-115 which was apparently the last German submarine to sail out of Zeebrugge in 1918 before the Belgian port was overrun by the advancing allied forces.
The airship R-29, based at East Fortune base (now the Scottish Air Museum), spotted a trail of oil from the U-boat lying just below the surface. It was probably lying in wait for a northward bound convoy that had left the Tyne earlier that day and was passing along the Northumberland coast.
The airship dropped a bomb on the vessel whilst calling up the destroyers HMS Ouse and HMS Star which, together with a group of armed trawlers including the Viola, were escorting the convoy.
The destroyers raced to the spot and after the airship dropped another bomb and a calcium flare over the submarine, the Ouse and Star made a depth charge attack. 
The armed trawlers also began a depth charge attack and listened for noises below the surface with hydrophones, an electronic listening device.
The destroyers had eventually to break off the attack and continue escorting the convoy as it sailed northwards but the trawlers continued the hunt for hours, depth charging the suspected site of the vessel and then listening with their hydrophones.
The submarine was heard trying to escape but without success and eventually all noises ceased. By the next morning all that could be seen was oil and bubbles and the U-boat was later confirmed as having been sunk. All the crew of the U-boat were lost in the sinking and the wreck still lies about 4.5 miles out to sea North-east of Newton by the Sea.
Here is an extract from the official account of the sinking from the National Archives:
The destroyers, airship and trawlers all worked together during the attack in a most able, efficient and harmonious manner which reflects greatest credit on all concerned. The airship especially distinguished herself by her smart lookout and efficient signalling.
The R-29 had been built at Breighton near Selby and was scrapped in the latter part of 1919 . The airship's Godfrey Main Thomas was only 23 years old at the time of the sinking and was awarded the DFC for his actions. He was to lose his life almost three years later when he was one of the crew of the airship R-38 when it broke up and crashed into the River Humber off Hull on 24th August 1921.