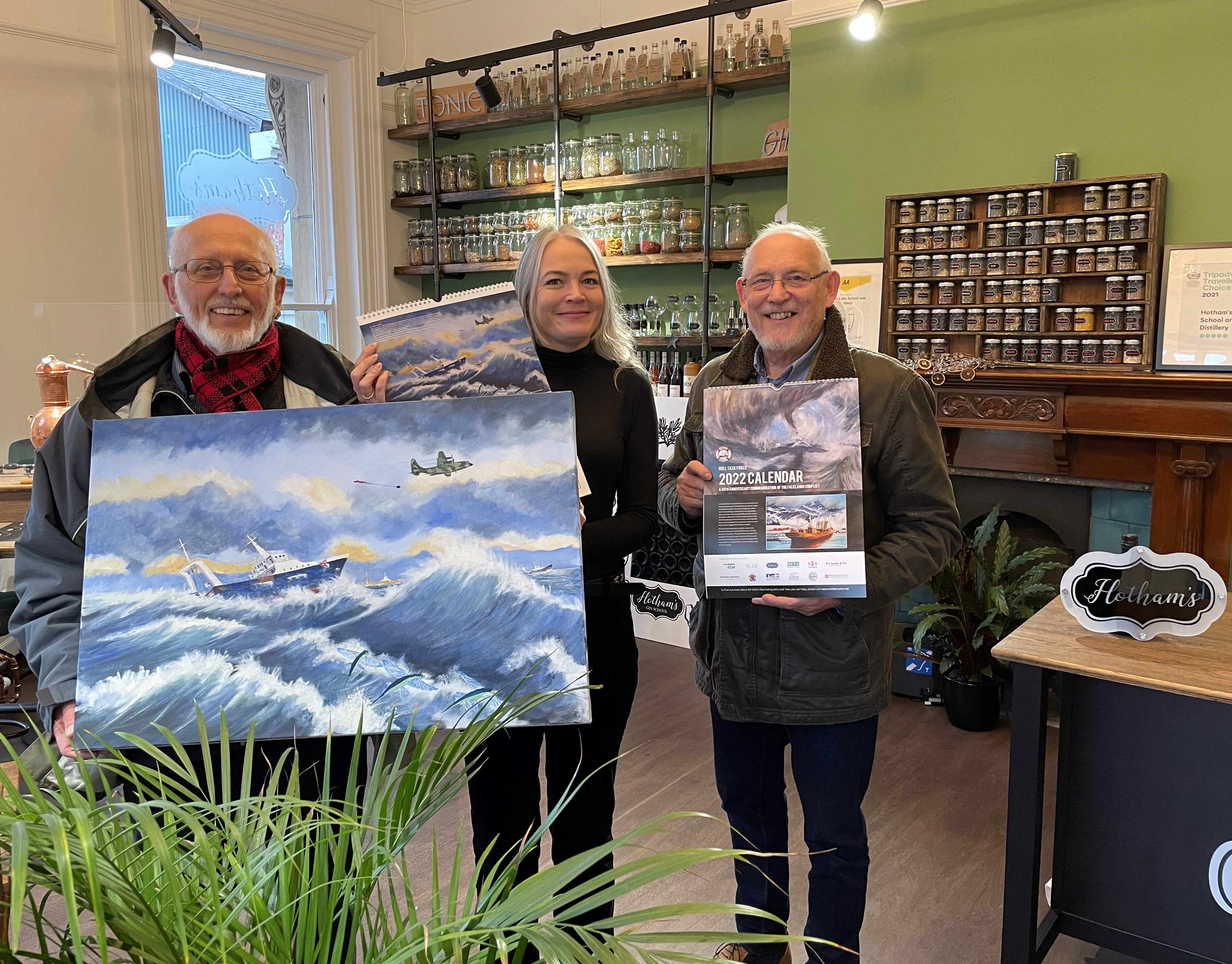 27th December 2021
More than a dozen outlets in and around Hull are now stocking the Hull Task Force calendar commissioned by the Viola Trust to support the campaign to bring the Viola trawler back to the city.
The vendors include local charities, some city centre bars and a selection of retailers across East Yorkshire.
The calendar can also be ordered by sending an email to the Viola Trust, and copies are being posted around the country.
Regional and national media have helped to raise awareness of the calendar with a report in Fishing News and a live slot on BBC Radio Humberside with presenter Phil White interviewing the artist Larry Malkin and the Viola Trust's project manager Norman Court.
The story was also covered by the Holderness Gazette, Hull is This, the Hull and Humber Chamber of Commerce, Business Works website, What's On Hull, HullBID and HU17.
Norman said: "We're still working hard to raise awareness of the calendar as we approach the 40th anniversary of the Falklands War, which was a significant milestone for the nine ships from Hull which sailed to the South Atlantic and of course for the Viola which was already there.
"We hope people will buy a calendar to support the campaign to bring the Viola home. It's a remarkable collection of some very striking paintings by a renowned local artist and it commemorates the part played by Hull and its seafaring community in an important episode in our nation's history".
The People's Memorial and its neighbour Hull4Heroes are both selling the calendar as are other Whitefriargate businesses Wrecking Ball Music and Books as well as Hotham's Spirits – which will soon announce details of a new Viola product – and Bar 55.
Also in the Old Town the calendar is available from J E Books in Hepworth Arcade and the nautical business B Cooke & Son Ltd in Market Place.
Elsewhere in the city centre you can purchase the calendar at The Punch Hotel and Kildale Marine at Hull Marina.
In Hessle Road the calendar is available from the Fishing Heritage Centre and Hird's jewellers. In Cottingham you can buy it from the Best Wishes card shop in King Street, Barkers newsagents and stationers in Hallgate and Red 7 Supplies in Cotta Court.
In Chanterlands Avenue the calendar is on sale at Panache, which sells all sorts of Hull memorabilia.
In Withernsea the calendar is available from the Holderness Gazette offices and from Moores newsagents.
The calendar is priced at £10 with all profits going to the Viola Trust.
Pictured is the artist Larry Malkin with Emma Kinton, co-founder of Hotham's Spirits, and Norman Court at the gin school and distillery at 55 Whitefriargate.
To order a copy direct from the Viola Trust please email info@violatrawler.net